Enhance Any Bedroom Project With Bedroom Wall Panels
Did you know that interior design dates back to the Victorian era, if not earlier? While we've changed our style preferences since then, interior design has not lost its touch. When working with a bedroom design, finding the right headboard to work for a specific space can be challenging.
The modern design wave is bringing stylish harmony to bedrooms everywhere. With a vast array of possibilities, interior designers have been able to marry a design with the actual bedroom space. The size of the room no longer matters when you incorporate a custom, wall-mounted paneled headboard into your designs.
Blend Home Furnishings has the solutions for you! Custom-made wall-mounted headboard panels are convenient and easy to install. Our custom ability allows designs to be adjusted regardless of room configuration — delivering your client with a design-perfect bedroom.
Here's what you need to know about Modern Wall-Mounted Headboard Panel Designs:
What is a Wall-Mounted Upholstered Panel Headboard?
Why Choose a Wall-Mounted Upholstered Panel Headboard?
Other Luxury Headboard Styles
Blend Home Furnishings Designs
What is a Wall-Mounted Upholstered Panel Headboard?
Interior designer-inspired concepts work to create a statement and maximize space within various bedroom designs. With a wall-mounted upholstered headboard, you can effectively optimize space and create a custom look that works perfectly with your designs.
Mounted securely to the wall rather than attached to your bed rails. A wall-mounted upholstered headboard, paired with a fully upholstered bed frame, can blend in seamlessly with your cohesive bedroom design, authentically enhancing the essence of your creation for your client.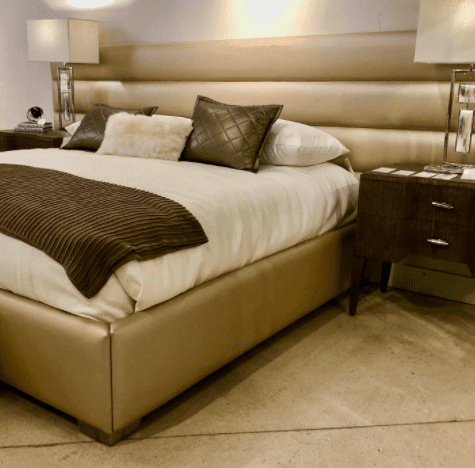 Create an entire custom bed frame with Blend Home Furnishings today!
Why Choose a Wall-Mounted Panel Upholstered Headboard?
Wall-mounted upholstered headboards are fully customizable to fit the room, your design essence and help to create an ensemble that bonds a room together with style, sophistication, and architectural form. When looking for a Minimal or a modern look, a wall-mounted headboard is designed and created like a framed piece of art. With a polished, modern, and clean look, these designs give the appeal of "built into the wall." A wall panel headboard design becomes a focal point of the bedroom.
Wall-mounted options are space-saving alternatives to the typical headboard designs. These mounted headboards are slim, fitting to your wall once hung. Wall-mounted panels are sturdy once mounted to eliminate any movement or sound against your wall ensuring a great night's sleep in a room of luxury.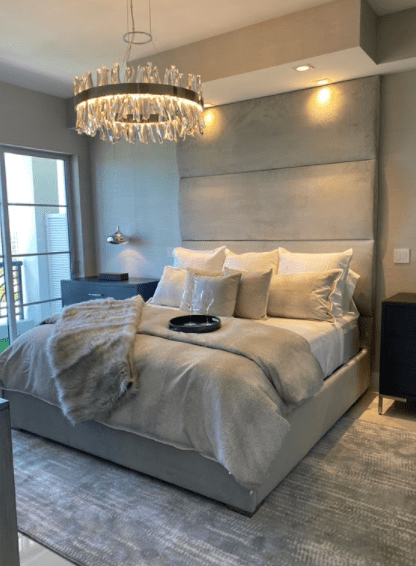 Other Luxury Headboard Styles
Panel Mounted
Another custom design option for headboards is a panel style. Panel headboards tend to have several sections that make up the length or width of the headboard. Typically, you'll find two or three panels of equal size— however, it's also common for the center panel to be larger than the two side panels. Horizontally striped panels can make your space look more expansive, whereas vertical panels can create a higher ceiling look. Custom panel headboards can be perfect for any size room!
With mounted, luxury headboards, as well as various other styles, you can work with the following design options:
Cover Behind the Bed: Make use of the wall space behind the bed with a mounted, luxury headboard!
Cover the Entire Wall: Similarly, with more extensive luxury headboard options, you can create a design that takes up more space behind the bed.
Squared Upholstered Design: Make use of different shapes for your headboard design.
Utilize the Width of the Room: When it comes to the bedroom design you are working on, try utilizing the room's width to design a custom, luxury headboard that works for the entire space.
Geometric Designs: Create a unique headboard design with geometric shapes.
Vertical Style: Rather than go with the traditional horizontal bed frame style, opt to create a vertical design that speaks to the height of the room you are stylizing!
Pro Tip: If you're purchasing your bed and headboard separately, double-check that your frame has compatible brackets with your custom headboard— if it doesn't, it is possible to use adapter plates to align and secure the bolts properly.
Blend Home Furnishings Designs
While these are not the only design options for your custom headboard, we hope these ideas help you get a better grasp of the essence of what you're seeking to create. Let Blend Home Furnishings create the perfect custom elements for your bedroom design project: headboards, bed frames, ottomans, chaise lounges, and upholstered accents—planned, patterned, and created to your dreams and specifications.
Visit our Idea Board to view our custom-upholstered headboards and beds. Gain access to gorgeous images of over 400 of our custom bed concepts to inspire your bespoke design journey: from our signature custom-upholstered, wall-mounted headboards to our unique bed frames and soft furnishing details. Contact Blend Home Furnishings today!