5 Reasons Your Clients Will Love Wall-Mounted Headboard Panels
If you like the idea of wall-mounted headboard panels but aren't exactly sure where to start, you've come to the right place. While not as common as traditional headboards, wall-mounted headboards are becoming an increasingly popular choice with its elegance and comfort. 
What is a Wall-Mounted Headboard?
In contrast to a standard headboard, which attaches to the bed frame, a wall-mounted headboard is affixed upon your wall. Screws, brackets, or other mounting devices are used to secure the headboard in a way that makes it look like it's "floating" on the wall. The headboard enhances both aesthetic appeal and practical functionality by providing a cushioned space between your bed and the wall.
While wall-mounted headboards are popular in homes with a sophisticated aesthetic, they have actually been around for centuries. In medieval castles, for example, rooms were often lined with tapestries and other fabrics to provide beauty and even some functionality, like helping insulate a room to keep it warm. Due to their customizability, style, support, and comfort, curated wall-mounted headboards are making a comeback.
Blend Home Furnishings gives designers and retailers the resources they need to deliver unique furniture and upholstery that embodies their design aesthetic. Learn more about what we offer today.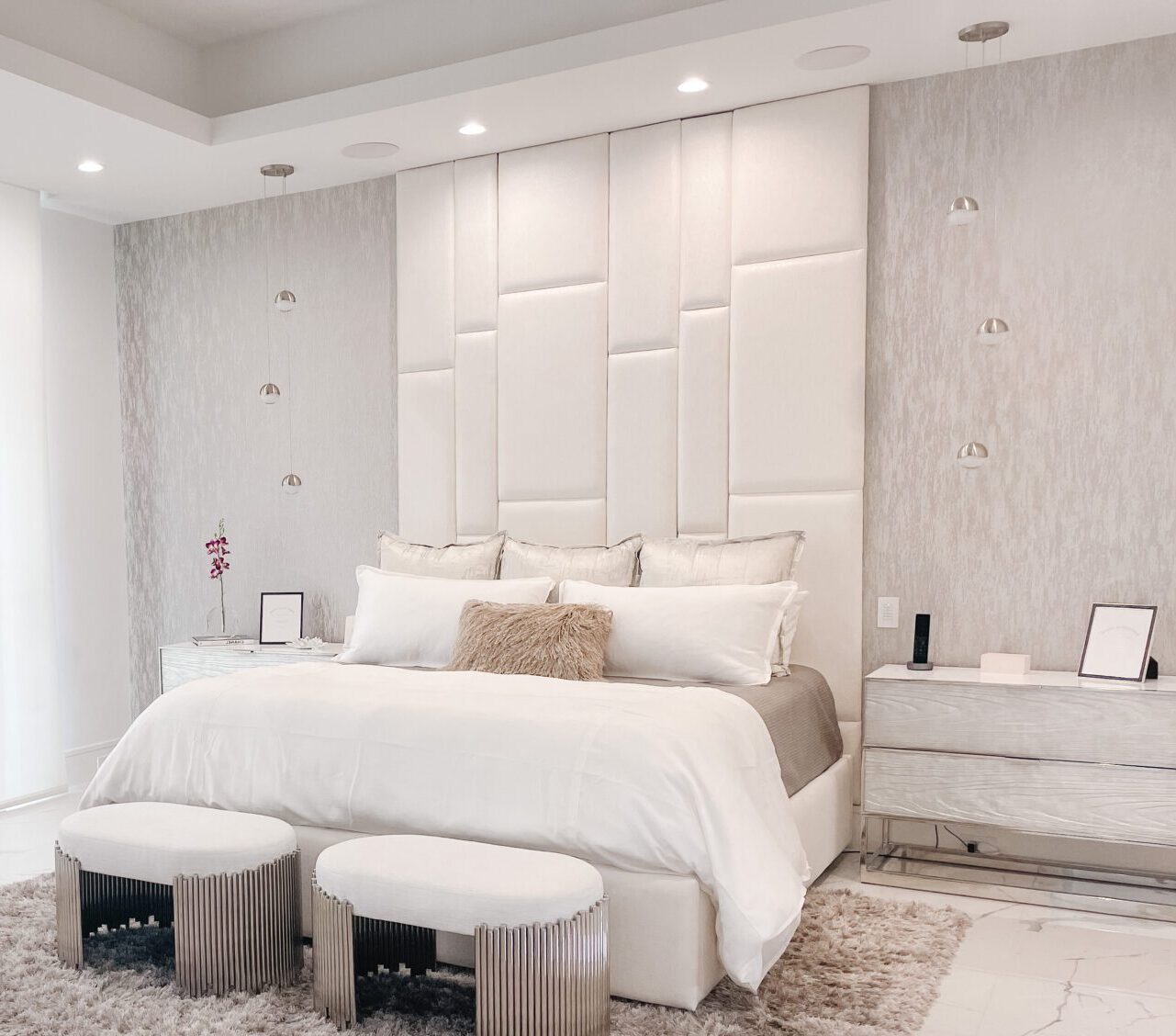 MONDO Wall-Mounted Headboard & Bed
Here are five aspects of wall-mounted headboards you will absolutely love:
Customizable
Wall-mounted headboards offer a world of design possibilities for your bedroom. Unlike traditional headboards, which are constrained by the size of your bed, wall-mounted headboards break free from those limitations. With wall-mounted headboards, you have the creative freedom to craft a unique and personalized bedroom aesthetic. Whether you're seeking a small, medium-sized, or full wall coverage headboard, the choice is entirely yours! Discover how wall-mounted headboards can transform your bedroom into a stylish and customizable haven, giving you the flexibility to create a space that perfectly suits your taste and needs.
For some inspiration, check out the headboards from Blend Home Furnishings. We offer a variety of styles and designs, perfect to suit your aesthetic. We also specialize in providing plenty of customization options, so you can get exactly what you need and want.
Statement Piece
Want to make a bold statement in your bedroom? A wall-mounted headboard is a great way to show your style and bring a whole new vibe to the space. The headboard can even be hung on the wall as a piece of art, making a great accent if you do it right.
You can even create an entire accent wall with customized upholstery using textile patterns and materials like leather, velvet, and vinyl. Let your personality shine through with unique patterns and designs.
If you need further general advice on how to style your bedroom with upholstered wall panels, check out this article. You'll find plenty of useful tips on how to create an accent wall, highlight your bed, and even help to soundproof your walls!
Space Saving & Modern
Save a good deal of space by utilizing a wall-mounted panel. Instead of sitting on the floor taking up space, the "floating" headboard will open up the room and provide a greater sense of dimension. This will give your bedroom a complete interior design essence.
Perhaps your room has wooden moldings with some empty space on the walls. Placing upholstered panels between the decorative moldings will add a real sense of sophistication and style. What a great way to revamp a boring bedroom!
Added Support
If you've used an old-fashioned standard wooden headboard before, you probably know how creaky and squeaky they can be! By firmly mounting the headboard on your wall, you can get rid of the instability and noise of a headboard attached to your bed.
Some people may worry about the installation process and level of difficulty. No need to fret; modern wall panels come with innovative mounting systems that are easy to install and very sturdy. You'll easily find a way to securely mount your beautiful headboard without trouble.
Comfort
One of the best aspects of a wall-mounted headboard is the comfort factor. They are often built using different types of soft upholstery fabric so you will never bump your head on a wooden headboard again!
In addition to adding value and comfort to your bed, upholstered headboards also provide a sense of warmth and security in a room. They provide sound insulation and even help your room stay warmer during the cold months.
Hopefully, you've learned something new about the benefits of wall-mounted headboards and know more about the many great options for modern home design. Whether you want to spice up a boring bedroom or let your elegance and style shine through, wall-mounted headboards are an excellent choice.
Contact Blend Home Furnishings today about developing custom wall panels or custom luxury beds and headboards that will suit your clients' needs.