Interior Designer Spotlight
Featured collaborative interior designer projects by Blend Home Furnishings.
Designer: Alecia & Charles Johnson
Firm: Pearl Design Interiors
Location: Greater Houston Area
Style Essence: "An elegant, unique, and timeless expression of style."
Meet Alecia & Charles Johnson
Pearl Design Interiors is superbly skilled in creating a breathtaking design that's a turn-key concierge level of services exceeding our clientele expectations while maximizing value without compromising quality. Pearl Design Interiors roster of clientele range from professional sports figures, corporate executives, commercial and hospitality companies. In collaboration with our client, a design becomes the core or theme of the project. Upon completing the design project, our client's design essence and goals are evident in the luxurious space, aesthetically appealing, functional, and reflective style.
Featured Project:
Project Name: Bespoke Master Bedroom Retreat - Atlanta, GA
Custom Design Wall Mounted Blend Home Furnishings Headboard, Custom Designed Bed Frame incorporating Luxurious Velvet & EcoLeather details.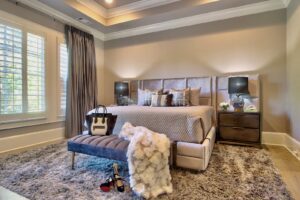 Contact:
alecia@pearldesigninteriors.com
(832) 466-5455